New Jersey Heavy Civil Construction Company Partners With OSHA to Strive for Safer Long-Term Working Environments
IEW Construction Group (IEW), a leader in NJ-based heavy civil construction, maintenance, and emergency response services, recently joined the OSHA Strategic Partnership Program (OSPP) in collaboration with the United States Department of Labor Occupational Safety and Health Administration (OSHA). These two organizations are partnering together on a large-scale highway and roadway improvement program with the New Jersey Department of Transportation (NJDOT) with the objective of protecting all workers employed by contractors and subcontractors. This initiative was commemorated at an official signing ceremony held on May 4th, 2023, at IEW's headquarters in Hamilton, NJ, where the company is now recognized as the only active OSHA strategic partner in Region II, which includes New Jersey, New York, Puerto Rico, and the Virgin Islands. 
The Partnership outlines strategies and 12-month performance metrics against three main goals, which include improving the overall safety and health management system and re-enforcing safety as a core value; reducing work-related injuries and illnesses and providing a safe work environment for all employees; and raising awareness and promoting work zone safety for employees throughout the duration of this project. To date, there are 82 active OSPP partnerships with 2,876 employers engaged and 666,034 workers protected; the addition of IEW expands the program's reach even further.
Chief Operating Officer Darrell D. Harms states, "We are excited to partner with OHSA on this project. Working closely with OSHA will help drive IEW Construction towards a robust and consistent safety culture that protects our people, business partners, and clients from hazards and unnecessary risks. IEW's safety-first commitment comes from within, and we recognize we can always be better at what we do and how we do it. The safety of our team and providing a secure working environment are the foundations for our success."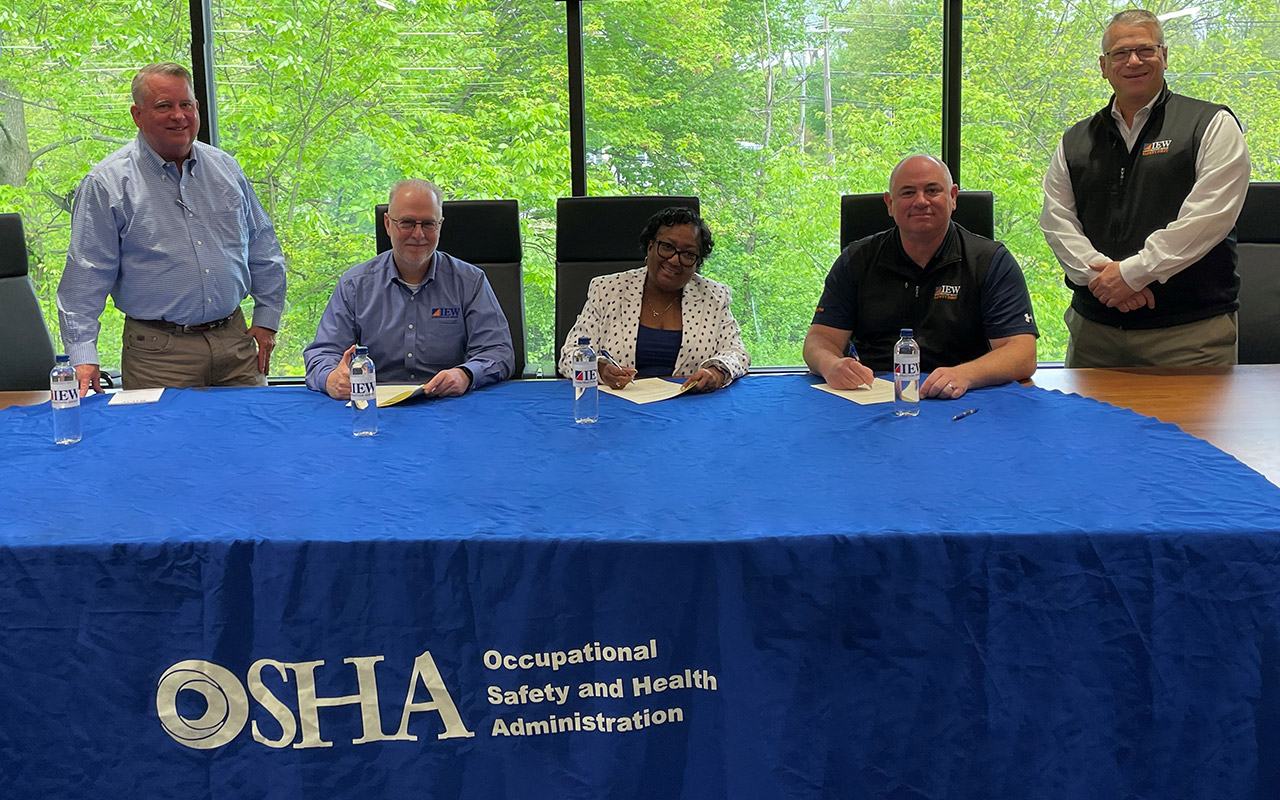 Members of IEW Construction Group and OSHA met on May 4th, 2023, to sign into effect the OSHA Strategic Partnership Program (OSPP) agreement between the two organizations. Pictured from left: President and CEO Vaughan S. Grundy III of IEW Construction Group, Corporate Safety Director Chad O'Connor of IEW Construction Group, Paula Dixon-Roderick, the area director for the OSHA Region II Marlton office, Chief Operating Officer Darrel D. Harms of IEW Construction Group, and Executive Vice President Harry W. Coleman of IEW Construction Group. 
Not pictured: Mike Levy, OSHA's Assistant Regional Administrator for Cooperative & State Programs, Region II; Rob Colman, OSHA's Compliance Assistance Specialist, Region II-Marlton Office; Abby Adams, Associate Government Affairs Director for Associated Construction Contractors of New Jersey (ACCNJ); and  Nicole M. Hoegerl, HSSE Manager of IEW Construction Group
Since IEW's formation in 1925, they have proudly honored a safety-first mentality where their people and clients are protected from unnecessary risk and have upheld a longstanding relationship with OSHA, utilizing their training services to educate IEW workers on the importance of job safety. This is an especially crucial point in the construction industry because, since 2008, construction has experienced more total deaths than any other industry and reported 169,200 injuries in 2021.1 By entering this partnership, IEW Construction Group is able to advance the company to a new standard in their already robust stance on safety and work to protect their employees from preventable harm on the job. This is a natural next step in solidifying the connection between the two organizations and working towards their shared goal of a safer workplace environment.